20/30 Solar™ Microspectrometer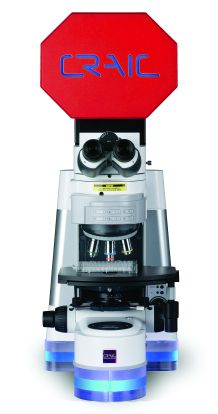 Introduction
The 20/30 Solar™ microspectrometer is designed for metrology and quality control testing of even the largest photovoltaic cells and their components. Built to your requirements, this bespoke instrument incorporates the latest technological advances in optics, spectroscopy and software to deliver the best performance for photovoltaic test and metrology processes. It is easy to use yet able to non-destructively measure reflectivity, transmissivity and film thickness of even sub-micron sized features. As such, the 20/30 Solar™ represents a giant leap forward in photovoltaic metrology and UV-visible-NIR microspectroscopy.
The 20/30 Solar™ microspectrophotometer combines the latest technologies to allow the user to measure transmissivity, reflectivity and thin film thickness of super strates and opaque substrates. Sampling areas can be as small as one micron. Three measurement techniques and all with the same instrument! The instrument includes CRAIC FilmPro™ thin film software and the option for automation. Additionally, the system can be equipped for UV and NIR imaging, in addition to spectroscopy, for such applications as contamination analysis of photovoltaic cells.
Raman microspectroscopy, high resolution UV microscopy and even NIR microscopy, for through silicon inspection, are also offered.
The 20/30 Solar™ microspectrophotometer is simple to use, the measurements are non-contact, non-destructive and the spectral data is unmatched.
The 20/20 Solar™ Microspectrometer can take spectra and images from the deep ultraviolet to near infrared with one seamless operation. It can acquire microspectra and images in absorbance, reflectance, and luminescence. The microspectrometer is offered with both the DirecVu™ to view samples by eye as well as with a high resolution UV-visible-NIR digital imaging system. The lit blue base and lit hexagonal optical head are both trademarks of CRAIC Technologies, Inc.

The lit microscope base and the lit octagonal optical head are trademarks of CRAIC Technologies, Inc. CRAIC Technologies, 20/20™, 20/20 Solar™ and "Perfect Vision for Science" are all trademarks of CRAIC Technologies, Inc. Instrument features offered depend upon instrument configuration. Features listed here may not be present in some configurations.
*Features and specifications depend upon instrument configuration. Specifications subject to change without notice.