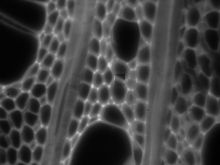 Introduction
CRAIC Technologies™ offers a number of bandpass, cut-off and cut-on filters for use in the illumination and image paths of CRAIC Technologies microscopes and microspectrometers. All filters are fitted into custom holders that are designed to protect the optical component as well as to fit smoothly and easily into the optical path of the CRAIC Technologies instrument. Filters can be supplied either individually or as sets, depending upon your requirements.
WIth a spectral range from the deep UV to the near IR, CRAIC Technologies filters have uses ranging from sample protection (by limiting illumination to a specific region) to enhanced imaging (to sharpen images) to spectral imaging (to see samples that are normally invisble to the standard microscope).
The 20/30 PV™ Microspectrometer can take spectra and images of microscopic samples from the deep ultraviolet to near infrared with one seamless operation. It can acquire microspectra™ and images in absorbance, reflectance, and fluorescence. The microspectrometer is offered with both the DirecVu™ to view samples by eye as well as with a high resolution UV-visible-NIR digital imaging system.
Perfect Vision for Science™

The lit microscope base and the lit octagonal optical head are trademarks of CRAIC Technologies, Inc. CRAIC Technologies, 20/20™, 20/20 PV™ and "Perfect Vision for Science" are all trademarks of CRAIC Technologies, Inc. Instrument features offered depend upon instrument configuration. Features listed here may not be present in some configurations.
*Features and specifications depend upon instrument configuration. Specifications subject to change without notice.