UVM-1 Bio™ UV-Visible-NIR Microscope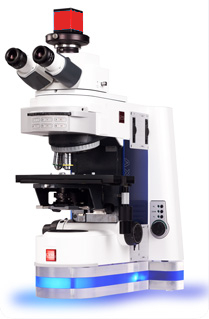 The UVM-1 Bio™ is designed for high-resolution microscopy of biological samples in the deep UV, visible, and NIR regions.

Introduction
The UVM-1 Bio™ UV-visible-NIR microscope is designed for biological analysis. With a spectral range that covers the ultraviolet, visible and NIR regions, the UVM-1 Bio™ microscope is commonly used to image biological samples that are normally transparent. This is made possible by the advanced optics it contains for cutting edge imaging and visualization of biological samples with high spatial resolution.The system is very easy to use, very durable and performs all functions seamlessly and flawlessly without needing to swap components.

Additionally, UV-visible-NIR reflectance is an optional imaging package.
Deep UV microscopy
Visible range microscopy

NIR

microscopy

Raman microspectroscopy now offered
Transmission, reflectance, fluorescence, and polarization imaging of microscopic

samples

True high resolution digital imaging and direct visualization through eyepieces
Easy to use and maintain
The UVM-1 Bio™ UV Microscope can image from the deep ultraviolet to near infrared with one seamless operation. It can acquire images in absorbance and fluorescence. It can be fitted with both the DirecVu™ to view samples by eye as well as with the high resolution digital imaging system.
The lit microscope base and the lit octagonal optical head are trademarks of CRAIC Technologies, Inc. CRAIC Technologies, UVM-1™, UVM-1 Bio™ are all trademarks of CRAIC Technologies, Inc. Instrument features offered depend upon instrument configuration.  Features listed here may not be present in some configurations.
*Features and specifications depend upon instrument configuration.  Specifications subject to change without notice.