Lightblades™ UV-Visible-NIR spectrophotometers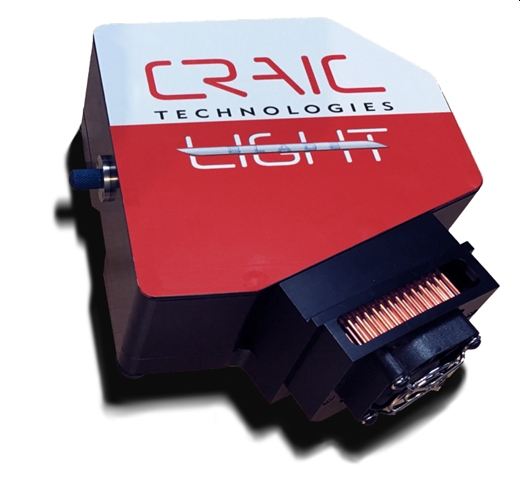 Spectrophotometers designed for light™ 

Introduction
Lightblades™ spectrophotometers, from CRAIC Technologies, are designed specifically for microspectroscopy.  Built for high sensitivity, superior ultraviolet and near infrared spectral response and a high dynamic range, Lightblades™ feature all solid state construction for both durability and reliability. 
Particularly well suited for low light-level applications such as microspectroscopy, Lightblades™ are exclusive to CRAIC Technologies leading-edge microspectrophotometers.  Featuring advanced optoelectronics and controlled by CRAIC Technologies LambdaFire spectroscopy software, Lightblades™ are the heart of a new generation of micro-analysis instruments.
The lit microscope base and the lit octagonal optical head are trademarks of CRAIC Technologies, Inc. CRAIC Technologies, 2030PV™, FLEX™, 508PV™, Apollo™, GeoImage™, rIQ™, Lambdafire™, Lightblades™ and "Perfect Vision for Science" are all trademarks of CRAIC Technologies, Inc. Instrument features offered depend upon instrument configuration. Features listed here may not be present in some configurations.
*Features and specifications depend upon instrument configuration. Specifications subject to change without notice.
UV-visible-NIR microscopes, UV-visible-NIR microspectrometers and Raman microspectrometers are general purpose laboratory instruments. They have not been cleared or approved by the European IVD Directive, the United States Food and Drug Administration or any other agency for diagnostic, clinical or other medical use.