Your best solution for trace evidence analysis
CRAIC Elixir™ is the multifunctional, yet cost effective solution for trace evidence analysis from CRAIC Technologies.  This full-featured yet flexibly configured instrument offers the following capabilities:
Microspectroscopy

Raman microspectroscopy

Glass refractive index measurements

High resolution color imaging

Polarization imaging and microspectroscopy
Fluorescence imaging and microspectroscopy
CRAIC Elixir™ incorporates superior optics, the highest quality spectrophotometers, high resolution digital imaging, and cutting edge software...all tied together with our Lightswitch by CRAIC™ optical multiplexer. With our Lightswitch by CRAIC™ proprietary technology, CRAIC Elixir™ retains the ease-of-use for which CRAIC instruments are known, while being capable of everything from UV-visible-NIR microspectroscopy, high resolution microscopic imaging, refractive index measurements and more.
With an attractive price-entry point, the CRAIC Elixir™ microspectrophotometer utilizes tested technologies to allow you to measure transmission, Raman, reflectance, polarization and fluorescence spectra of microscopic sample areas.  And while microspectra™ are being acquired, the sample may be simultaneously imaged with a high-resolution color digital imaging system or through eyepieces.  Additional features may also include measuring the refractive index of glass fragments as well as microcolorimetry.
The CRAIC Elixir™ is built to yield superior quality images and spectra by many different methods all for an attractive price.
Features
One instrument for glass, fibers, paints, soils and documents!

Key Features* Offered:
Transmission microspectroscopy

Reflectance microspectroscopy

Fluorescence microspectroscopy

Polarization microspectroscopy

Raman microspectroscopy

Sub-micron spectroscopy with permanently calibrated, variable apertures.

Sophisticated spectral analysis software

NIST Traceable Spectroscopy Standards
High resolution color imaging

High-resolution fluorescence imaging

High resolution polarization imaging

Sophisticated image analysis software

Superior images both with eyepieces and digital imaging

Easy to use and maintain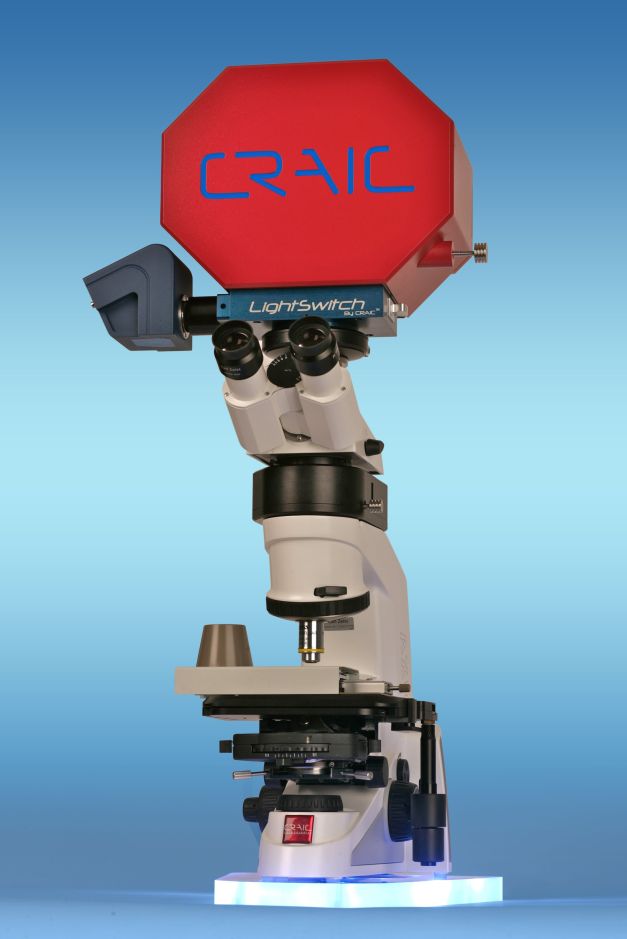 The CRAIC Elixir™ Microspectrophotometer can acquire microspectra™ and images in absorbance, reflectance, Raman, polarization and fluorescence. The microspectrometer is offered with both the DirecVu™ to view samples by eye as well as with a high resolution color digital imaging system.

UV-visible-NIR microscopes, UV-visible-NIR microspectrometers and Raman microspectrometers are general purpose laboratory instruments. They have not been cleared or approved by the European IVD Directive, the United States Food and Drug Administration or any other agency for diagnostic, clinical or other medical use.  CRAIC Elixir™ and the lit octagonal optical head are all trademarks of CRAIC Technologies, Inc.
*Features and specifications depend upon instrument configuration.  Specifications subject to change without notice.
As CRAIC continually advances and improves its designs, specifications and components of CRAIC Elixir™ instrumentation are subject to change without notice.  Instrument features offered depend upon instrument configuration.  Features listed here may not be present in some configurations.