Lightswitch by CRAIC™ Optical Multiplexer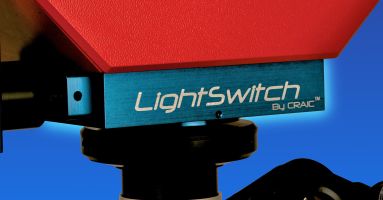 Seamlessly and easily add capabilities to a microscope or microspectrophotometer with this optical multiplexer
Optical multiplexer to add imaging and spectroscopy to microscopes and microspectrometers.
Introduction
Lightswitch by CRAIC™ is an optical multiplexer or switch designed to add multiple capabilities to a microscope or microspectrophotometer seamlessly and easily. This device is attached to an open photoport on the microscope or microspectrometer. Additional capabilities may then be added, including UV-visible-NIR spectroscopy, UV-visible-NIR imaging, Raman spectroscopy, refractive index measurements and more.
Lightswitch by CRAIC™ economically expands the capabilities of your microscope or microspectrophotometer while yielding superior quality images and spectra.
Features
Key Features*
Attaches to many types of microscopes and microspectrometers

Simple to use

Solid state design

Superior imaging quality

Broad spectral range
What you can add to your microscope
Add spectroscopy and imaging to your microscope!
UV Imaging

NIR Imaging

Polarization Imaging

Fluorescence Imaging

Emission Imaging

UV-visible-NIR Reflectance Spectroscopy

UV-visible-NIR Absorbance Spectroscopy

UV-visible-NIR Fluorescence Spectroscopy

UV-visible-NIR Emission Spectroscopy

Polarization Spectroscopy

Raman Spectroscopy
Support
Support
CRAIC Technologies provides service and support for it's instruments worldwide. CRAIC Technologies service engineers offer instrument repair, maintenance, training and technical support for all aspects of CRAIC Technologies products.
Perfect Vision for Science™
The lit microscope base and the lit octagonal optical head are trademarks of CRAIC Technologies, Inc. CRAIC Technologies, 2030PV™, FLEX™, 508PV™, Apollo™, GeoImage™, rIQ™, Lambdafire™, Lightblades™ and "Perfect Vision for Science" are all trademarks of CRAIC Technologies, Inc. Instrument features offered depend upon instrument configuration. Features listed here may not be present in some configurations.
*Features and specifications depend upon instrument configuration. Specifications subject to change without notice.
UV-visible-NIR microscopes, UV-visible-NIR microspectrometers and Raman microspectrometers are general purpose laboratory instruments. They have not been cleared or approved by the European IVD Directive, the United States Food and Drug Administration or any other agency for diagnostic, clinical or other medical use.