Traceable Microspectrophotometer Standards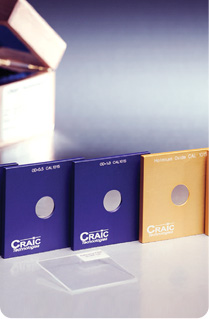 Traceable Microspectrophotometer Standards designed for use with a ultraviolet, visible, and near-infrared range microspectrometers.
CRAIC Technologies™ offers a variety of Traceable Microspectrometer Standards, calibrated using Standard Reference Materials from NIST and other internationally recognized standards reference materials, are specifically designed for use with your UV-visible-NIR microspectrometer. All of our standards were developed to meet ASTM, ISO, ENFSI and SWGMAT criteria. Standards are available for wavelength, photometric, fluorescence, vitrinite reflectance calibration and more.

CRAIC calibrated Microspectrometer Standards are used with CRAIC microspectrophotometer systems as part of the automatic verification and validation process. These standards are simple to use as well as being traceable to internationally recognized Standard Reference Materials.

Key Benefits of Traceable Microspectrophotometer Standards from CRAIC Technologies
Check wavelength calibration of a microspectrometer.
Check photometric calibration of a microspectrometer.
Traceable to internationally recognized standards.
Conform to ASTM Standard Practices.
Conform to SWGMAT & ENFSI protocols for trace analysis.
Used for instrument validation to meet ASCLD certification requirements.
Automated instrument calibration verification with a CRAIC microspectrometer
Includes software and certificates
CRAIC recertifies Microspectrophotometer Standards