Nanomaterial Research Instrumentation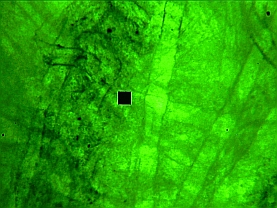 Microspectrophotometers are used to analyze nanomaterials by reflectance, absorbance and fluorescence
Film thickness measurements of nanomaterials
Nanotechnology is the control of matter on the atomic or molecular scale. It has many different applications including research and development of nanomaterials. Nanomaterials have unique properties some of which are determined by instrinsic nanoscale features. Some examples include the development of sensors based on the surface plasmon resonance effect, quantum dots and carbon nanotubes.
Due to the microscopic scales of the materials to be analyzed, microspectrophotometers are the perfect tool. Able to analyze micro-scale samples by absorption, reflectance or even fluorescence, these tools are easy-to-use and very accurate. Their flexibility and accuracy make them very importance for analyzing everything from the optical effects of butterfly wings to surface plasmon resonance based sensors.
To learn more about microspectroscopy and nanomaterial applications, select one of the following links:
What is a Microspectrophotometer?
Science of Microspectrophotometers
Uses of Microspectrophotometers