What is Nanotechnology?
Nanotechnology is the study of matter on the nanoscale, from 1 to 100 nm, and this has become important as materials exhibit many new characteristics that are significantly different from their bulk properties. These nanomaterials come in many different shapes and forms such as spheres, wires, or rods, and these influence the electronic and physical characteristics of the nanomaterial. While scientists have been working with naturally occurring and synthetic nanomaterials for many years, the progress of nanotechnology and its applications have skyrocketed once scientists could better characterize the physical characteristics and correlate them with the newly observed properties.
Real World Applications
While it may seem like it only has a place in the laboratory, nanotechnology has many commerically viable applications. The greater surface area to volume leads to an enhanced chemical reactivity, and nanostructured materials are being tested and used for filtration and purification or enhanced sensitivity sensors. Reducing the size can create new electrical properties, as evidenced by all of the work in 2-d materials like graphene, and this is extremely useful in semiconductor and electronics applications as companies seek to manufacture smaller and smaller devices. Beyond just smaller electrical components, these new electrical properties show great potential for energy collection and storage applications, i.e. photovoltaic solar cells and batteries. Depending on the material, very strong tuneable optical properties can be created as well, leading to new light emitting diode (LED/OLED) technologies for both display and lighting.
Nanotechnology and CRAIC
As CRAIC Technologies specializes in optical tools for spectroscopic characterization from the ultraviolet to the short-wave infrared with microscale sampling areas, there are a multitude of applications in nanotechnology for our microspectrophotometers (MSP) and Raman microspectrometers. This is especially true as they can both be used on the same microscope to quickly and easily collect Transmission, Reflection, or Photoluminescence microspectra from the same area as Raman microspectra!
While not an exhaustive list, here are some highlights of peer-reviewed research being conducted with our instruments.
To learn more about microspectroscopy and nanotechnology applications, please reach out to us by phone or email!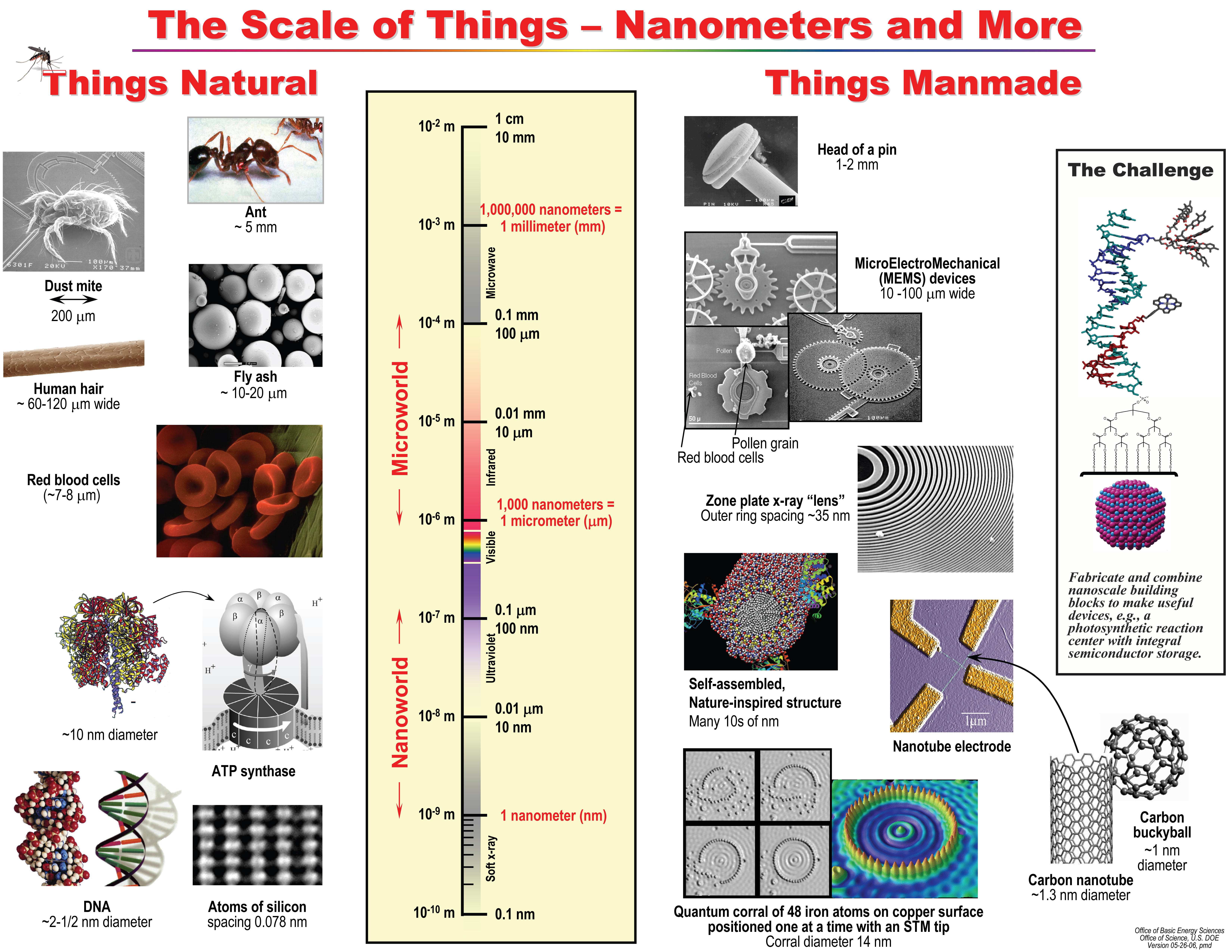 Chart of the "Scale of Things" produced by the Office of Basic Energy Sciences for the U.S. Department of Energy.
20/30 PV microspectrophotometer with Apollo II Raman microspectrometer!