Raman Spectroscopy In Forensic Science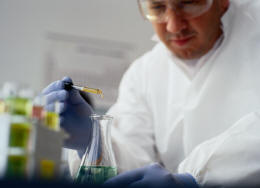 Raman Microspectrometers are used to identify drugs, explosives and trace evidence.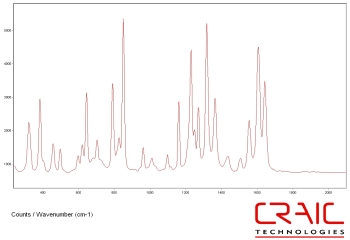 Raman spectrum of a common drug.
Raman spectroscopy is used to identify many types of forensic evidence such as drugs, explosives and trace evidence.
Drugs: Raman microspectroscopy is commonly used to identify even microscopic amounts of drugs even when mixed with other materials.
Explosives: Raman spectroscopy can identify many types of explosives from even the smallest samples.  Many explosives have strong and readily identifiable Raman signatures.  Even trace residues may be identified using Raman microspectroscopy.
Trace Evidence: Raman spectroscopy is useful in analyzing trace evidence such as paint chips and textile fibers.  Dyes and pigments may also be analyzed using resonance Raman spectroscopy which yields on the order of a millionfold increase in signal if the correct lasers are used  This necessitates a system with multiple lasers.  
To learn more about Raman microspectroscopy, select one of the following links: 
The Science of Raman Microspectroscopy
Raman Microspectrometer Design
How a Raman Microspectrometer is Used