Vitrinite reflectance and point counting of coal, coke and petroleum source rock accurately and quickly.
Measure the reflectance of vitrinite macerals
GeoImage™ uses a camera to quickly and accurately measure the reflectance of vitrinite macerals. GeoImage™ is designed for the organic petrographic analysis using Standard Test Methodologies ISO 7404-5 and ASTM D2798.
GeoImage™ works by reading the vitrinite reflectance intensity from each pixel of a calibrated camera. This means that, in the standard configuration, millions of points can be measured at one time...making vitrinite reflectance testing quick, easy and accurate.
Perfect Vision for Science™
Introduction
Features
Key Features*
High sensitivity detector with low noise and long term stability for rapid imaging microphotometry
Measure vitrinite reflectance per ISO 7404 and ASTM D2798 standard test methods.
CRAIC Vitrinite Reference Materials available
Precision 546 nm reflectance measurements
Color fluorescence imaging
Can be upgraded to full range microspectroscopy
Can be upgraded to fluorescence microspectroscopy
Upgrade your old coal reflectance system and work faster and with better results
Manual or fully automated operation

Precision temperature control of samples
Easy to use and maintain
From the experts in microspectroscopy
Vitrinite Reflectance
ISO 7404 and ASTM D2798
The GeoImage™ is designed to measure the reflectance of vitrinite macerals per ISO 7404 and ASTM D2798 standard methods. Offered both in manual and automated mode, the system produces industry standard reports when used with

CRAIC Vitrinite Reflectance Standards.

Test reports can also be customized to your particular requirements.
Point Counting
Point counting
| | |
| --- | --- |
| Point counting is a statistical method wherein the petrographer analyzes a large number of points, typically 100 to 500, and recording the type of rock seen at each point. The entire dataset is then analyzed to give a more detailed description of the rock sample. | |
Imaging
High resolution color digital imaging
| | |
| --- | --- |
| The GeoImage™ offers high resolution, color digital imaging with sophisticated software. This makes it very easy to align the sample for measurements and to capture full color images under any measurement conditions. | |
Fluorescence
Cutting edge microfluorometry
| | |
| --- | --- |
| The GeoImage™ can also image the fluorescence of coals, kerogens and petroleum source rock easily and quickly. With the ability to image, the GeoImage™ is a powerful tool for the analysis of geological samples...including fluid inclusions. | |
Applications
Applications
Vitrinite Coal Reflectometry

Organic Petrography

Kerogen Analysis

Petroleum Source Rock Analysis

Petrochemistry

Reflectance microspectroscopy

Transmission microspectroscopy

Fluorescence microspectroscopy

Color imaging

Mineralogy analysis

Gemology
Support
Support
CRAIC Technologies provides service and support for it's instruments worldwide. CRAIC Technologies service engineers offer instrument repair, maintenance, training and technical support for all aspects of CRAIC Technologies products.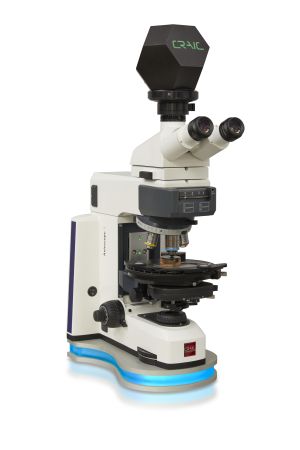 GeoImage™ can be configured to measure the reflectance from coals, kerogens and petroleum source rock as well as a host of other materials. And with it's flexible design, the GeoImage™ is offered with point counting capabilities, automation of the test procedure and high resolution color imaging.
With no moving parts, GeoImage™ is durable and user friendly. Designed with flexibility and speed in mind, the GeoImage™ vitrinite reflectance measurement system will easily comply with future changes in coal testing methods and your own experiments.
The lit microscope base and the lit octagonal optical head are trademarks of CRAIC Technologies, Inc. CRAIC Technologies, 2030PV™, FLEX™, 508PV™, Apollo™, GeoImage™, rIQ™, Lambdafire™, Lightblades™ and "Perfect Vision for Science" are all trademarks of CRAIC Technologies, Inc. Instrument features offered depend upon instrument configuration. Features listed here may not be present in some configurations.
*Features and specifications depend upon instrument configuration. Specifications subject to change without notice.
UV-visible-NIR microscopes, UV-visible-NIR microspectrometers and Raman microspectrometers are general purpose laboratory instruments. They have not been cleared or approved by the European IVD Directive, the United States Food and Drug Administration or any other agency for diagnostic, clinical or other medical use.