Measure vitrinite reflectance with CoalPro™ Software
CRAIC Technologies™
has developed
CoAlpro™
vitrinite reflectance analysis software for use with CRAIC Technologies instruments. When combined with a CRAIC
Vitrinite Reflectance Measurement system
, you are able to determine the vitrinite reflectance values of coal samples per the ASTM D2798, ISO 7404 and other international vitrinite reflection standard measurement protocols. The coal sample is then graded using internationally recognized vitrinite reflection test methodologies. The software is fast, easy to use and reports can be printed and saved in internationally recognized vitrinite reflection formats.
Features
Measure vitrinite reflectance of coal, coke, kerogen and petroleum source rock quickly and easily.

Key Features*
Vitrinite reflectance per ISO 7404 standard method.
Vitrinite reflectance per ASTM D2798 standard method.
Kerogen and petroleum source rock analysis
Full CRAIC spectrometer control
Advanced statistical analysis features
Perfect for research as well as production
Easy to use and maintain
From the experts in

microspectroscopy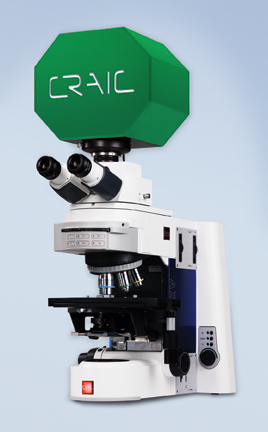 The 508PV™ Microscope Spectrophotometer can be configured to acquire spectra from the deep ultraviolet to the near infrared. It can be added to a microscope to acquire spectra and images in absorbance, reflectance, and fluorescence.
Perfect Vision for Science™

The lit microscope base and the lit octagonal optical head are trademarks of CRAIC Technologies, Inc. CRAIC Technologies, 2030PV™, FLEX™, 508PV™, Apollo™, GeoImage™, rIQ™, Lambdafire™, Lightblades™ and "Perfect Vision for Science" are all trademarks of CRAIC Technologies, Inc. Instrument features offered depend upon instrument configuration. Features listed here may not be present in some configurations.
*Features and specifications depend upon instrument configuration. Specifications subject to change without notice.
UV-visible-NIR microscopes, UV-visible-NIR microspectrometers and Raman microspectrometers are general purpose laboratory instruments. They have not been cleared or approved by the European IVD Directive, the United States Food and Drug Administration or any other agency for diagnostic, clinical or other medical use.