Discover how to improve microspectrometer throughput and save money by automating your microscope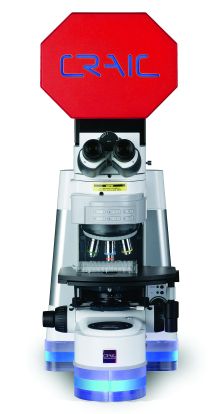 Full automation of your CRAIC microspectrometer and microscope.
CRAIC Technologies™ automation solutions are designed to improve microspectrometer and microscope throughput and save money by automating labor intensive and repetitive steps.
The 2030PV PRO™ Microspectrometer can take spectra and images of microscopic samples from the deep ultraviolet to near infrared with one seamless operation. It can acquire microspectra™ and images in absorbance, reflectance, and fluorescence. The microspectrometer is offered with both the DirecVu™ to view samples by eye as well as with a high resolution UV-visible-NIR digital imaging system.
Introduction
All features are integrated with our instrument control software and hardware to seamlessly expand the capabilities of your instrument with such features as repeatable, multiple location measurements, integration and analysis of full data sets per sample or per set of sample.
CRAIC automation solutions reduce labor, save money and add capabilities to your microspectrometer. They are designed to be rugged, fast and highly flexible. Most importantly, they are easily reprogrammed to meet your changing requirements and to protect your investment far into the future.
Features
Key Features*
Adds full software control of all CRAIC Technologies hardware
Programmable sample movement for high throughput measurements
Programmable movement for high reproducibility
Automation for both imaging and microspectroscopy
Easy to use and maintain
From the experts in microspectroscopy
Call today to discuss your automation requirements with us
Spectral Surface Mapping
| | |
| --- | --- |
| Combines hardware and software for automated spectral analysis and 3D mapping of samples with microscopic spatial resolution. 3D maps of the absorbance, transmission, reflectance, fluorescence, emission and Raman spectra of samples may be generated. | |
Applications
Applications
Semiconductor Film Thickness
MEMS devices
Flat panel displays
Microdisplays
Pharmaceutical quality control
Process Impurity Detection
Vitrinite reflectance
Support
Support
CRAIC Technologies provides service and support for it's instruments worldwide. CRAIC Technologies service engineers offer instrument repair, maintenance, training and technical support for all aspects of CRAIC Technologies products.
Perfect Vision for Science™
The lit microscope base and the lit octagonal optical head are trademarks of CRAIC Technologies, Inc. CRAIC Technologies, 2030PV™, FLEX™, 508PV™, Apollo™, GeoImage™, rIQ™, Lambdafire™, Lightblades™ and "Perfect Vision for Science" are all trademarks of CRAIC Technologies, Inc. Instrument features offered depend upon instrument configuration. Features listed here may not be present in some configurations.
*Features and specifications depend upon instrument configuration. Specifications subject to change without notice.
UV-visible-NIR microscopes, UV-visible-NIR microspectrometers and Raman microspectrometers are general purpose laboratory instruments. They have not been cleared or approved by the European IVD Directive, the United States Food and Drug Administration or any other agency for diagnostic, clinical or other medical use.