Microspectrophotometer Reflectance Standards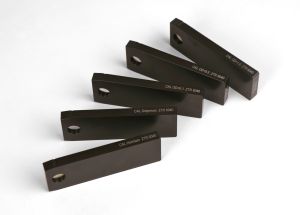 Traceable UV-visible-NIR reflectance standards designed for microspectrophotometers
CRAIC Technologies™ Reflectance Microspectrometer Standards are calibrated using Standard Reference Materials from NIST and other internationally recognized standards bodies.  CRAIC Reflectance Standards are specifically designed for use with your UV-visible-NIR microspectrometer. All of our standards were developed to meet ASTM, ISO, ENFSI and SWGMAT criteria. Standards are available for wavelength and photometric calibration.

CRAIC calibrated Microspectrometer Standards are used with CRAIC microspectrophotometer systems as part of the automatic verification and validation process. These standards are simple to use as well as being traceable to internationally recognized Standard Reference Materials.

CRAIC Technologies™ Microspectrometer Standards
Benefits
Key Benefits of Microspectrophotometer Reflectance Standards
Check wavelength calibration of a microspectrometer

Check photometric calibration of a microspectrometer

Check intensity readings of a microspectrometer

Traceable to internationally recognized standards

Conform to ASTM Standard Practices

Conform to ISO Standard Test Methods

Conform to SWGMAT & ENFSI protocols

Used for instrument validation to meet ASCLD certification requirements

Automated instrument calibration verification with a CRAIC microspectrometer

Includes software and certificates

CRAIC

recertifies

Microspectrophotometer Standards
Support
CRAIC Technologies provides service and support for it's instruments worldwide.  CRAIC Technologies service engineers offer instrument repair, maintenance, training and technical support for all aspects of CRAIC Technologies products.
Specify make and model for when calling for pricing.
The lit microscope base and the lit octagonal optical head are trademarks of CRAIC Technologies, Inc. CRAIC Technologies, 2030PV™, FLEX™, 508PV™, Apollo™, GeoImage™, rIQ™, Lambdafire™, Lightblades™ and "Perfect Vision for Science" are all trademarks of CRAIC Technologies, Inc. Instrument features offered depend upon instrument configuration. Features listed here may not be present in some configurations.
*Features and specifications depend upon instrument configuration. Specifications subject to change without notice.
UV-visible-NIR microscopes, UV-visible-NIR microspectrometers and Raman microspectrometers are general purpose laboratory instruments. They have not been cleared or approved by the European IVD Directive, the United States Food and Drug Administration or any other agency for diagnostic, clinical or other medical use.